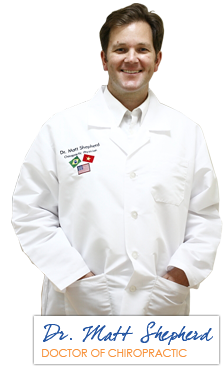 Dr. Shepherd specializes in chiropractic care for long-term spinal stabilization. Chiropractic care offers you effective natural treatments which can help to relieve your back, neck and extremity pain. Chiropractic treatments are gentle, specific and scientific and many times alleviates the need for surgery or medications.
Matt is the son of Doug and Carollee Shepherd. Their family has been here in the Placerville, El Dorado County area for 35 years. He followed in the footsteps of my siblings Kelly, John, Mark, Tacy, Jared, and Leanne Shepherd at El Dorado High School. It was here that he became an Eagle Scout, played in the EDHS Cougar Band, excelled in various sports, and ultimately met the love of his life.
Following a two year service mission in Brazil, he received a bachelors degree from BYU in Portuguese Literature. His family; wife Kristina, and children Soren, Sofia and Oskar then moved to Portland, Oregon where he attended Western States Chiropractic College.